Daesmith
Submitted by

admin

on Thu, 09/03/2020 - 09:10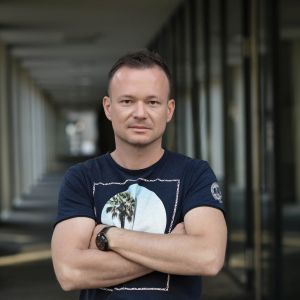 Hungarian-born DJ and producer with international experience, selector and record collector. Grown up in the "rave"-era of the 90's he had his first encounter with electronic music discovering early techno, house and trance productions.
During his activity in the Hungarian scene for nearly two decades he regularly played in highly renowned clubs of Budapest such as Pacha, Home, Dokk, Coronita, etc. and others all across the region.
Host and guest at various online radios (DI.FM, Justmusic.FM, Pulzar.FM), perpetrator of the famous Electronic Groove Podcast (chapter EG.126), founder and organizer of Audio Bliss Project (2006-2009) – series of club events, podcast and radio show, and the ECOnnect Festival (2012-2014), an electronic music and visual arts gathering in Hungary promoting environmental protection.
His collection of carefully selected tunes makes a Daesmith set unique and distinguishable. Harmonic, elegant and selfless mixing style results in smooth transitions ensuring constant dynamism during his sessions. His music is characteristic for pounding techy drums and beats, finely crafted deep structures, rich in detail sounds combined with trippy, tribal elements and continuous presence of chords, synths and melodies. Forward-thinking house with a touch of techno's subtle extravagance.
Daesmith has been living in Bermuda for several years, where he significantly contributed to the creation of the underground electronic music scene in a distinctively different cultural environment. In 2016 he moved to Warsaw, Poland, performing regularly as guest DJ in prominent clubs as Smolna, Luzztro, Metronom, etc.
In 2019 he changed his base to Zürich, the musical capital of Switzerland. Played this year in Vietnam`s prime techno club in Arcan. His first productions appeared on Deeplomatic Recordings (Rock Gardens) and Debuger Records (Pole Mokotowskie) in 2020. Further releases are expected on various labels.